INCOME RANGE $40,000 - $200,000/ YR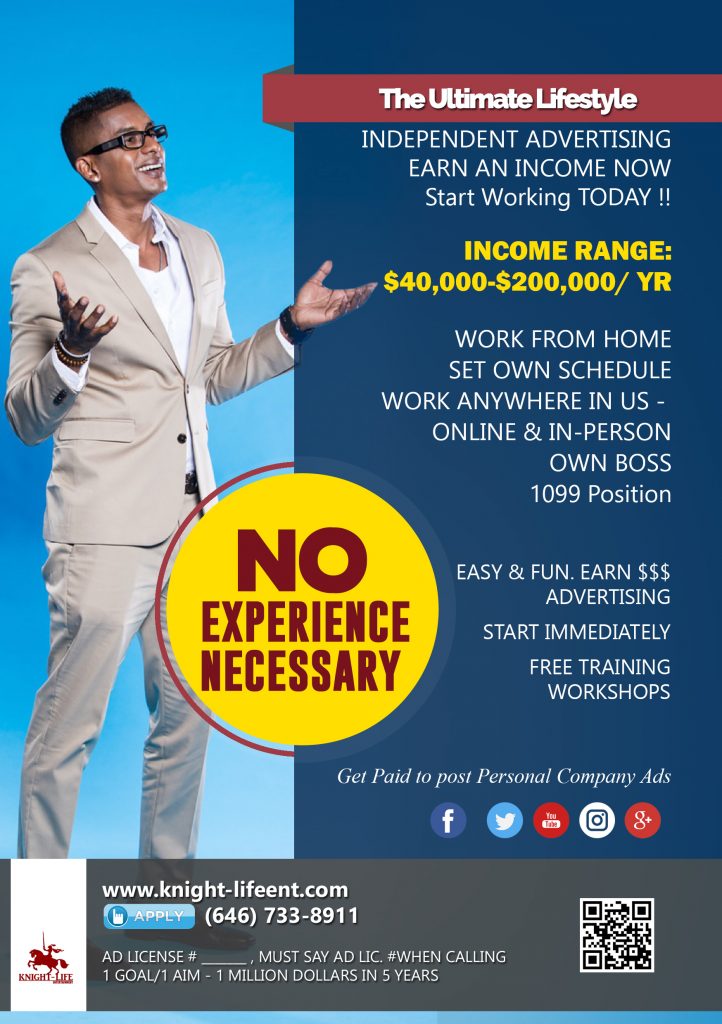 REGISTER TODAY !!!! You deserve an extra income.
PARTNER WITH US.
INDEPENDENT ADVERTISER.
Make an income $$$, posting Personal /Selfie /Company Ads  to:
Get Started Immediately !!
Knight Life Entertainment, the online music company that generates an income for individuals. We are in the Business of Advertising and Promotion.
We are hiring Business Cards Distributors / Advertisers / Promoters, to promote our company. We train you how to promote & market. We teach you our Success System and give you our Business Blueprint. You promote www.knight-lifeent.com (The Name ONLY)
EMPLOYEES ARE HIRED AS: INDEPENDENT CONTRACTORS and work as a BUSINESS PARTNER.This is a 1099 Position.
As an Independent Contractor You:
Make an income advertising & promoting.(collect an income & residual income)
Set your own hours.
NO BOSS. NO OFFICE.
WORK WHEN YOU WANT !!
Get a Company Website.
Receive Tax Form 1099
Salary  Range:
$1,000 - $3,000 WEEKLY
$4,000 - $7,000 MONTHLY
$48,000 - $84,000 Annual Average Income
Earn in excess of $200,000+/Yr with no cap.
Requirements:
Register (takes a few minutes-Free Registration- No Monthly fees)
Have Advertising License
Your Personal Legal License to Advertise and make an income in the US; Online & In-person.
$100 / Advertise for One Year
.33 Cents/day, Cost Of a Pack Of Gum
100% Return on Investment of Advertising License Fee.
Ready to start working?